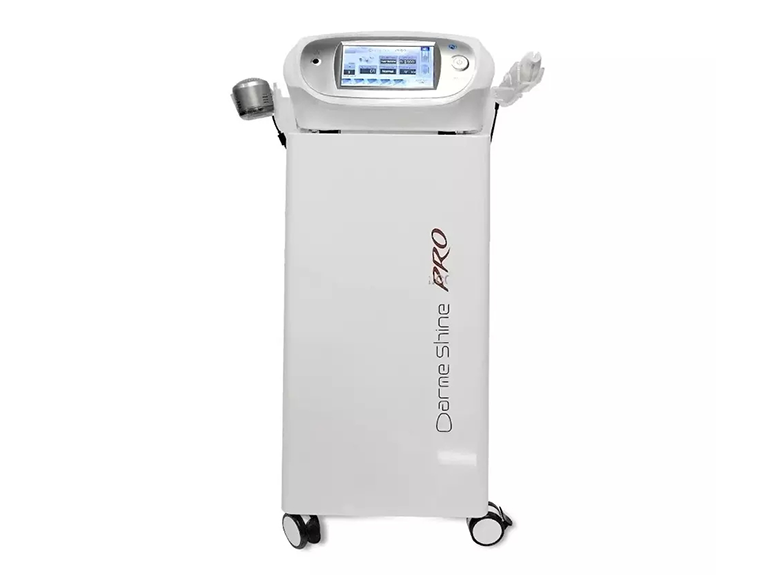 Dermashine Pro is a medical device for super hydrated and dewy, moisture- retaining radiant skin.
Demasha Derma Shine 2 generations in South Korea nine water injection device of light new! --Create Han supple skin tool
Demasha Derma Shine generation 2 water injection system in South Korea is a nine-pin supplementary injections of high-end high-tech cosmetic equipment, using negative pressure technique can accurately in the DermIS layer of skin under the 1.28mm depth of nutrients, the greatest degree of satisfaction of the consumers "changes" cosmetic needs, has a very broad market space.
South Korea's newly developed demasha Derma Shine generation 2 water injection device using negative pressure technique can accurately in the DermIS layer of skin under the 1.28mm depth of nutrients, micro-needle into the skin before using negative pressure apparatus to mention the skin, then needle more accurately into the deep DermIS. Dose, injection frequency can be adjusted on the LED screen. In addition, the needles before they release the pressure on the syringe, so there will be no loss of nutrients.
Mesotherapy injection light is known as the most secure and reliable high tech hairdressing and the four reasons
1.) has the first international patent technique;
2). dermal absorption of nutrients should be added up to 98.3%, 68.3% higher than the traditional complementary therapies;
3). additional depth control accuracy accurate amount up to 0.01cc up to 0.1mm and dose control, is the high-tech beauty beauty equipment of injection instrument is most accurate;
4). injection is simple and convenient.
Advantages
1). non-surgical beauty treatments
2). short time (whole face: 15-20 minute)
3). the use of needles and automation equipment
4). beauty treatments just after a slight redness may soon get back to daily life
5). in the dermal layer of the skin effect
6). the use of negative pressure meter lift skin
7). skin nutrients into accurate
8.) can be accurately adjusted depth of injection
9). instrument adjustment can be made simply on the LED screen
10). pain slight – 32G needles
Mesotherapy injection light skin rejuvenation is the latest international skin beauty from South Korea.According to the skin cells and study of cuticle water content distribution is obtained only when the water penetrates into the skin deep moisturizing can play the ultimate goal of results.Hyaluronic acid which directly injected into the dermis, the skin moist and soft, shiny and bright, and truly solve the problem of DermIS a lack of water, and are promoted up to restore elasticity and whitening effect.
Hyaluronan (Hyaluronic Acid) is a natural substance that constitute the human body itself, so no side effects and rejection.
Hyaluronic acid moisturizing to the skin play an important role, compared with the 20~30sui skin, hyaluronic acid content in human body when 30~40sui is 60%, only 50% over 40 years old, body reducing hyaluronic acid in the skin aging process, and decreased skin elasticity, resulting in fine lines. Point injection of hyaluronic acid can increase water retention capacity, addressing small wrinkles, making skin moist and bright.
Demasha Derma Shine Korea generation 2 water tender is hyaluronic acid (water) are directly injected into the DermIS layer, skin filled with water, improving wrinkles, restoring elasticity, an anti-ageing effect. Water, light and magic skin core ingredient is hyaluronic acid, absorbed in the skin and storing 1,000 times its own weight of water, thus keeping the skin moist and soft, shiny and bright. Also in South Korea, the water light and magic skin star, blog's got talent, beauty experts called the most popular rejuvenation, water projects.
Water light IPL face rejuvenation is a minimally invasive pain, no hospitalization, no SCAR and integrated Facial rejuvenation anti-aging techniques. By combining a variety of techniques to adjust the facial tissue energy balance, improve skin circulation vitality of the organization.Leave skin youthful, 360 degree rendering of the face young and healthy state.
Advantages of water, light and magic skin and efficacy:
1, moisturizing, whitening, firming, detoxifying, one-stop Facial rejuvenation effect management.
2, non-invasive, no marks, no pain to improve wrinkles.
3, sufficient moisture to improve dull and rough skin.
4, treatment is simple and quick, only a 15-minute
5, after injection, no swelling, to everyday life
6, water, light and magic skin four times for a course of treatment, normally injected once and you can feel the water light and magic skin changes, change will be more apparent after a course
7, anti-aging, and reversal of age.
Suitable for:
Skin dark and rough, dry skin, face colored spot